Snow blanketed the town in quiet isolation. It covered the roadways and rooftops and treetops, even the magnificent climbing tree that shaded the Carroll's tiny well-maintained home across from the grade school. Everything was covered with feet of fluffy white powder. Borne by the wicked winter wind, it had curled around corners to layer unevenly on window ledges, lapped over porch screens to create rippling patterns, and drifted into mounds that covered bushes and bicycles, burying whole cars under its weight. It covered Myrtle's flowerbeds leaving only some tall stalks visible, outlined in glistening ice.
Sledding behind cars was prohibited, and so Bob, Art, Harold and others got out their skis. They gathered at the top of 14th Street hill, put their skis on and waited, throwing snowballs and shoving each other around to stay warm. They were waiting for the first likely, unsuspecting bumper to come their way.
Art pulled his cap down over his ears, rubbed gloved hands together, and grabbed onto the silver fender of a blue Oldsmobile sliding off on wobbly but confident skis. He guided his way nimbly along the edge of the road, slipping back behind the car to avoid heaps of snow, trash cans, and occasional pedestrians. The hill was considerably steeper than he'd expected. His scarf flapped in the wind like a kite tail as he shifted his weight expertly beside the Olds'. Art was fourteen and fast. But gaining speed wasn't the hard part, slowing down was. At a T-intersection, he lost the car when it turned the sharp corner to the left and Art found himself continuing forward, flying.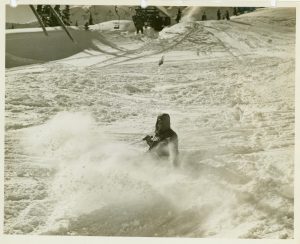 He winced a bit now as he stretched, still sore, but he was the first one up as he usually was on cold mornings, up before anyone scratched a match to the cast iron to light the wood stove, when fingers of ice still tickled at the spine, encouraging a shiver. This morning was no exception. He nursed the cut that was sure to turn into a scar and remembered the impossibility of being airborne and the pain of landing as he scuttled into his jeans.