BOOK TWO in the series: The Adventures of Jo and the School's Out Squad
A missing painting, three unusual suspects, and a group of inquisitive kids on the trail. Jo and the School's Out Squad follow the tracks to uncover the Mystery of the Blue Dog.
Sixth grader Jo Daniels and her friends discover strange goings-on in their neighborhood. No one seems prepared to stop the trouble except Jo—and she's always in trouble!
Jo, Tommy, Betsy, and Leonard discover the art world and Cajun cooking in their second adventure. The squad attempts to help Jo's neighbor, Mrs. Murphy, find a stolen painting. The only trouble is that Mrs. Murphy didn't ask for help!
A chapter book filled with adventure for children aged 9-12.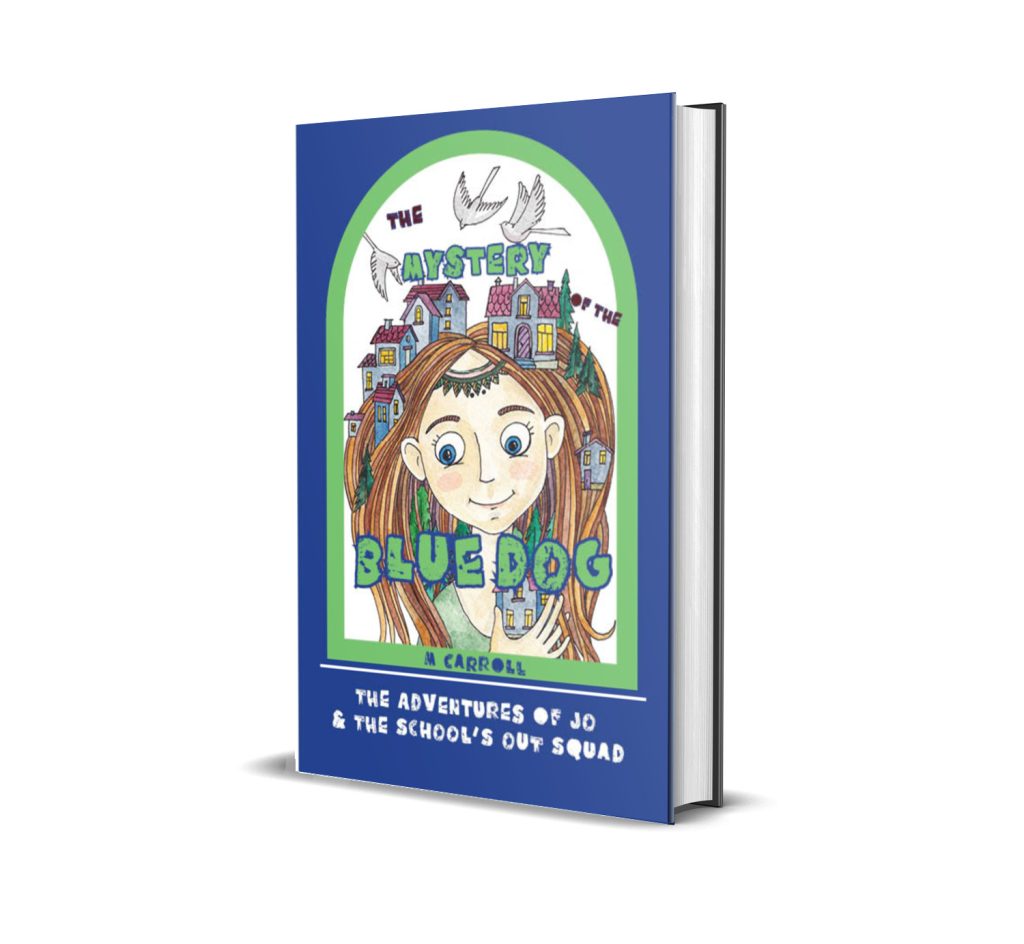 "The Mystery of the Blue Dog is a short and sweet young reader"s mystery, reminiscent of series like Encyclopedia Brown and the A to Z Mysteries. When the neighborhood chef finds that a burglar has stolen a valuable painting and priceless secret recipes from her house, Jo and her group of friends are on the case to track down the culprit." – Athena Jean, NetGalley Reviewer
"Jo is back for more shenanigans, this time solving the mystery around a break-in at her neighbor's house, and the missing painting of a blue dog. Jo's group of friends are distinct and likeable, and I enjoyed their comraderie while they investigate together. I felt as if I was on my bike, riding through the neighborhood along side them. I'm looking forward to the next book in this series by M. Carroll!" —Brie Hutchens, NetGalley Reviewer
"If Enid Blyton books were your favourite and you're looking for something similar for your child, this is a good choice. Suitable for children aged 7 and above, fast-paced mystery story and a very fun heroine! I like that it's relatable to kids, with mentions of the internet and Tiktok and so on, but the kids aren't obsessed with their phones, and on the contrary, spend their time outdoors!" — Vansa David, NetGalley Reviewer
"The Mystery of the Blue Dog was a thoroughly enjoyable story about four neighborhood kids who call themselves The School's Out Squad.. Their names are Jo, Tommy, Leonard & Betsey. The Squad is responsible for cleaning Mrs. Murphy's property in the summer. They're all hanging out in their clubhouse in Mrs. Murphy's tree when they notice someone has broken into her house! It turns out the man they saw inside, who they dubbed Caterpillar Eyebrows, was there to rob Mrs. Murphy! He stole her recipes & the picture of a blue dog she had hanging near her kitchen. Mrs. Murphy has some important recipes, she & Mr. Murphy owned a restaurant before he died. Those recipes mean so much to Mrs. Murphy.. Turns out the picture is pretty valuable, too. I loved reading about how Jo & the gang used their detective skills to solve this mystery… Hope you enjoy it as much as I did!" — Kim Barbella, NetGalley Reviewer
"The Mystery of the Blue Dog is a story featuring four friends who accidentally interrupt a break-in and follow the clues to try and catch the thief. Jo Daniels and her three friends, Tommy, Leonard and Betsy, are the School's Out Squad. I was impressed with how the kids were each given a distinct personality and they worked within their strengths to find clues and work to solve the crime. The story is engaging and keeps divulging information to keep the reader invested and the plot moving forward." — Alice Bunke, NetGalley Reviewer
"The Mystery of the Blue Dog is a fun read that's not your typical mystery. It's a smart story that doesn't talk down to kids, and in fact most of the kid characters in this book are clever and capable, and like all great kid books, it's the kids who outsmart the adults. The main character, Jo, is resourceful and clever and stands up for herself, and her friends are just as clever, but in their own individual ways. Loved the references to cooking and art woven into the mystery." — Amber Fraley, Bookseller