Are you ready to write your memoir?
It's easy to schedule an event or workshop.                        No rappelling required! Just click here.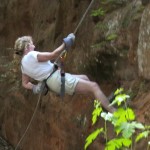 Maureen provides  workshops and seminars on memoir writing, diversity, consciousness, and community focused entrepreneurship.
Douglas County Senior Center, Lawrence, KS. Memoir Writing Workshop.
Micki (Maureen) Carroll and friend/fellow author Vicki Julian offer memoir writing workshops at the Douglas County Senior Center in Lawrence, Kansas. Our goal is to inspire others to leave a lasting legacy for  family and community, for generations to come. With an easy to follow outline and an opportunity to begin, this workshop has received rave reviews from previous attendees.
We also provides professional services such as editing, copy-editing, layout, cover design, and additional services to publish a lovely and lasting heirloom to pass from generation to generation. Contact us for more information.